MI Bridges connects you with over 30,000 state and local programs and services across Michigan. You can search for local resources using the Explore resources option on the official MI Bridges portal.


By registering with MI Bridges, you can access resources tailored to your location, needs, and circumstances. There are resources available at the local and state levels as well. You will be asked a few questions and given a list of recommended resources for your situation.
Explore Resources On The Michigan Bridges Portal
There are different eligibility requirements for each resource program. You can view the overview, eligibility, and contact information for each resource and state program by clicking the View Details link on the My Resources page. Additional questions about eligibility can also be answered by contacting the program directly.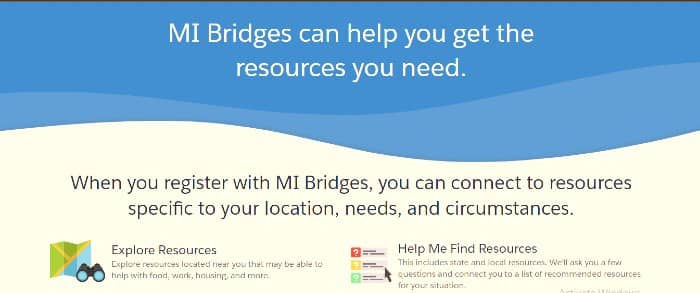 There are resources available for a variety of life events. These are some of the events for which resources are available:
Divorce or Marriage
Experiencing Homelessness
Unemployment
Being evicted or moving
Shutdown of utilities
Becoming a Senior Citizen
Looking for Healthcare
Having a Disability or Special Needs, etc.
It is possible to search for more than one resource at the same time. This is known as a reassessment. Choose a topic from the My Resources page and then click Get Started. A few questions will be asked to determine the best resources to use in response to your responses. You can also select Explore Resources from the drop-down menu.
You will see a list of recommended resources based on your answers after completing the survey. Choose the resources you wish to add to your resources after completing the survey. MDHHS partners with state and local organizations to give you the best possible service to help with your concerns. You can report wrong resource information by contacting the resource's phone number if you find it.